Bankability
Committed to excellence, reliability and safety
Nanosolar is dedicated to adding value to our customers' installations and safeguarding their successes in the global marketplace. Hence, we work closely with the solar power industry's recognized certification bodies, EPA-accredited testing labs and technical advisers to conduct comprehensive reliability and field performance tests.
These programs test the safety, quality, durability and performance of Nanosolar Utility Panels through technology characterization studies, accelerated reliability tests in combination with electrical loads, and in field operating environments.
Nanosolar utilizes research and testing labs and technical advisers including: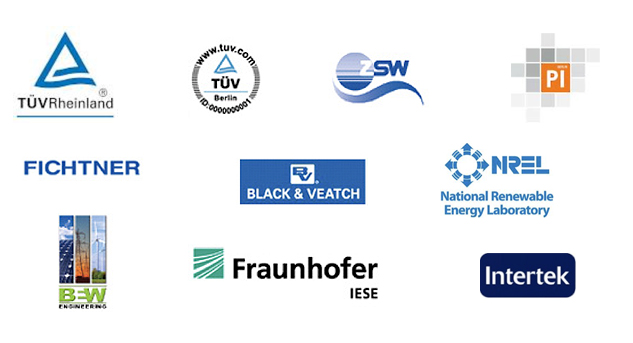 The Nanosolar Utility Panel is insured by Munich Re's Performance Extended Warranty Insurance.
Munich Re has been at the forefront of introducing insurance products for solar energy. With its deep domain expertise, Munich Re can assume very specific renewable energy risks and thus help provide greater investment security.
Click here to download Nanosolar's Product Warranty.
"Through our extensive due diligence process, we were impressed with the quality and controls in the Nanosolar manufacturing process," said Christian Scharrer, head of Green Tech Solutions, Special Enterprise Risks at Munich Re. "We are confident in standing behind the Nanosolar Utility Panel as a credible and bankable technology for low cost utility-scale solar installations."
For more information, please go to MunichRe's online portal Green Tech Solutions (GTS) Business Suite.